See what's new at Thorlabs:
View the full list of new products (below) or browse our entire product range.
All of these items are available now!

Choose

RSS Feed to have this information delivered to you.

1 New Product in the Tool Kits Family!
«« View All New Products
«« View ByCategory
Many of the most commonly used tools in the photonics lab are available in kits. Choose from balldrivers, screwdrivers, and tap kits. All of these kits also provide a convenient storage case to ensure that the right tool can be found when needed.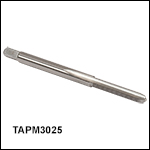 Specialty Taps - Metric (View Product Family)
1 New Product!

TAPM202- Metric Tap, M2 x 0.2 Thread RELEASED: August 11, 2020