3 New Products in the Kinematic Mounts Family!
«« View All New Products
«« View ByCategory
Thorlabs' kinematic mounts include a range of popular mirror mounts as well as V-mounts, pellicle beamsplitter mounts, rectangular optics mounts, a Mini-Series collimator mount, kinematic collimator adapters, and objective mounts.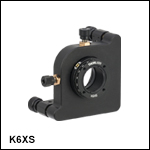 6-Axis Kinematic Optic Mounts (View Product Family)
1 New Product!

K6X2- 6-Axis Locking Kinematic Mount for Ø2" Optics RELEASED: October 16, 2019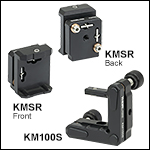 Kinematic Mounts for 1" Tall Rectangular Optics (View Product Family)
2 New Products!

KMSR/M- Compact Kinematic Mount for 25.4 mm Tall Rectangular Optics, M4 Taps RELEASED: October 07, 2019


KMSR- Compact Kinematic Mount for 1" Tall Rectangular Optics, 8-32 Taps RELEASED: October 07, 2019