See what's new at Thorlabs:
View the full list of new products (below) or browse our entire product range.
All of these items are available now!

Choose

RSS Feed to have this information delivered to you.

3 New Products in the Laser Line Mirrors Family!
«« View All New Products
«« View ByCategory
Laser line mirrors are fabricated with specialized coatings that offer high damage thresholds, making them well suited for use with a range of high-powered CW or pulsed laser sources. Thorlabs' offering of laser line mirrors are designed to withstand the high-intensity beams typically produced by Nd:YAG, Ar-Ion, Kr-Ion, excimer, and CO2 lasers.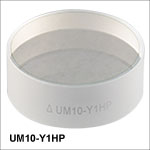 (View Product Family)
3 New Products!

UM10-Y3HP- Ø1" Picosecond Yb Laser Line Mirror, Third Harmonic, 335 - 375 nm RELEASED: June 04, 2019


UM10-Y2HP- Ø1" Picosecond Yb Laser Line Mirror, Second Harmonic, 500 - 550 nm RELEASED: June 04, 2019


UM10-Y1HP- Ø1" Picosecond Yb Laser Line Mirror, Fundamental, 1010 - 1080 nm RELEASED: June 04, 2019