See what's new at Thorlabs:
View the full list of new products (below) or browse our entire product range.
All of these items are available now!

Choose

RSS Feed to have this information delivered to you.

1 New Product in the CCD & CMOS Cameras Family!
«« View All New Products
«« View ByCategory
Thorlabs has a diverse offering of CMOS, sCMOS, and CCD cameras. Our Zelux™ and general-purpose cameras provide cost-effective imaging solutions with options including external trigger inputs and global shutters. Our Kiralux®, Quantalux®, and Scientific CCD array cameras can be used in microscopy, materials inspection, and other demanding quantitative imaging applications. We also offer a polarization-sensitive CMOS camera that is ideal for materials inspection, flaw detection, and other advanced techniques using polarization. Hermetically sealed cooled models are available for our Quantalux and Scientific CCD cameras. The linear CCD camera is designed for applications such as custom-built spectrometers and features an external trigger input.

Thorlabs also offers a wide variety of camera lenses, objectives, and mounts for use with our CCD and CMOS cameras. Our selection of C-mount camera lenses includes standard prime (fixed) lenses, zoom lenses, and telecentric machine vision lenses that are ideal for imaging and machine vision applications. Additional accessories include a rotation mount, two-camera mount, and C-mount extension tubes.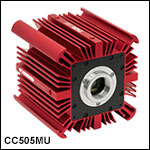 Hermetically-Sealed, Cooled Kiralux 5.0 MP CMOS Compact Scientific Camera (View Product Family)
1 New Product!

CC505MU- Kiralux 5.0 MP Monochrome CMOS Camera, Hermetically Sealed Cooled Package, USB 3.0 Interface, 1/4"-20 Taps RELEASED: January 14, 2021