See what's new at Thorlabs:
View the full list of new products (below) or browse our entire product range.
All of these items are available now!

Choose

RSS Feed to have this information delivered to you.

2 New Products in the Screws, Kits, and Adapters Family!
«« View All New Products
«« View ByCategory
Thorlabs provides both metric and imperial cap screws, setscrews, and low-profile screws, as well as thread adapters, and insulating screws. We also offer kits that contain the most common sizes needed in the laboratory, balldrivers, and hex keys.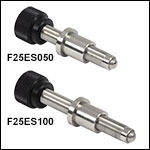 1/4"-170 Matched Adjuster/Bushing Pairs (View Product Family)
2 New Products!

F25ES050- 1/4"-170 Matched Adjuster/Bushing Pair, L = 1.85" RELEASED: September 18, 2019


F25ES100- 1/4"-170 Matched Adjuster/Bushing Pair, L = 2.23" RELEASED: September 18, 2019