See what's new at Thorlabs:
View the full list of new products (below) or browse our entire product range.
All of these items are available now!

Choose

RSS Feed to have this information delivered to you.

2 New Products in the Optical Isolators Family!
«« View All New Products
«« View ByCategory
Thorlabs manufactures a wide selection of narrowband and broadband free-space optical isolators (Faraday isolators) that operate in spectral ranges from 365 nm to 4550 nm, including high-power options, as well as fiber isolators designed for wavelength ranges from 650 to 2010 nm for polarization-independent versions and 770 nm to 2010 nm for polarization-dependent versions. For customers whose needs are not met by our stock selection, we offer a custom isolator service that can combine the best features across our entire isolator family. The Optical Isolator Selection Guide displays wavelength ranges and isolator types for all stocked isolators.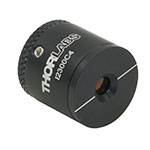 2.3 µm Polarization-Dependent Isolator (View Product Family)
1 New Product!

I2300C4- Free-Space Isolator, 2.3 µm, 3.6 mm Max Beam, 1.2 W Max RELEASED: January 25, 2018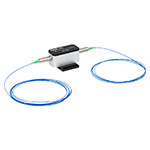 780 nm Polarization-Dependent Isolators with PM Fiber (View Product Family)
1 New Product!

IO-J-780APC- Fiber Isolator, 780 nm, PM, 3 W, FC/APC RELEASED: January 23, 2018 - Customer Inspired Product!