See what's new at Thorlabs:
View the full list of new products (below) or browse our entire product range.
All of these items are available now!

Choose

RSS Feed to have this information delivered to you.

2 New Products in the Electrical and Shielding Tools and Supplies Family!
«« View All New Products
«« View ByCategory
This page features tools and accessories that are often used when working with electronics. In addition, there is a link to Electrical Shielding Components and to Temperature Measurement and Control Devices.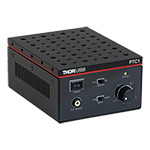 Temperature-Controlled Mini-Series Breadboard (View Product Family)
2 New Products!

PTC1/M- Temperature-Controlled Breadboard, 101.6 x 127.0 mm, M6 and M4 Tapped Holes RELEASED: October 18, 2018


PTC1- Temperature-Controlled Breadboard, 4.00" x 5.00", 1/4"-20 and 8-32 Tapped Holes RELEASED: October 18, 2018