3 New Products in the 16 mm Cage Components Family!
«« View All New Products
«« View ByCategory
Thorlabs' cage system uses four rigid steel rods on which optical components can be mounted along a common optical axis. The components on this page use rods that are spaced on the corners of a 16 mm square.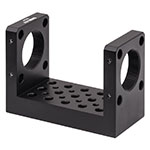 (View Product Family)
1 New Product!

CBB1- 30 mm Cage System U-Bench, 1/4"-20 and 8-32 Tapped Holes RELEASED: February 24, 2020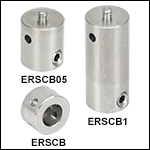 ER Rod Adapter for 30 mm and 60 mm Cage Systems (View Product Family)
2 New Products!

ERSCB-P4- Rod Adapter for Ø6 mm ER Rods, 4 Pack RELEASED: December 13, 2019


ERSCB- Rod Adapter for Ø6 mm ER Rods RELEASED: December 13, 2019