See what's new at Thorlabs:
View the full list of new products (below) or browse our entire product range.
All of these items are available now!

Choose

RSS Feed to have this information delivered to you.

6 New Products in the Optical Prisms Family!
«« View All New Products
«« View ByCategory
Thorlabs' optical prisms are useful for a wide range of applications. Our extensive collection of optical prisms includes various shapes and configurations, such as right-angle, dispersing, roof, dove, retro-reflecting, penta, and wedge prisms.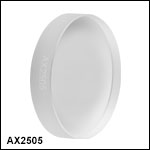 Axicons (Uncoated) (View Product Family)
6 New Products!

AX2520- 20.0°, Uncoated UVFS, Ø25.4 mm (Ø1") Axicon RELEASED: April 24, 2019


AX2510- 10.0°, Uncoated UVFS, Ø25.4 mm (Ø1") Axicon RELEASED: April 24, 2019


AX255- 5.0°, Uncoated UVFS, Ø25.4 mm (Ø1") Axicon RELEASED: April 24, 2019


AX252- 2.0°, Uncoated UVFS, Ø25.4 mm (Ø1") Axicon RELEASED: April 24, 2019


AX251- 1.0°, Uncoated UVFS, Ø25.4 mm (Ø1") Axicon RELEASED: April 24, 2019


AX2505- 0.5°, Uncoated UVFS, Ø25.4 mm (Ø1") Axicon RELEASED: April 24, 2019