See what's new at Thorlabs:
View the full list of new products (below) or browse our entire product range.
All of these items are available now!

Choose

RSS Feed to have this information delivered to you.

2 New Products in the Kits Family!
«« View All New Products
«« View ByCategory
Our kits include general purpose component kits as well as experimental kits such as our Optical Trap Kit. The general purpose kits are great when first starting a lab due to the variety of components included. Our Optical Trap Kit, on the other hand, is a cost-effective optical trap built with Thorlabs parts. Finally, our educational kits include components for building classic experiments with detailed instructions and teaching materials.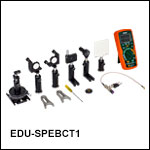 Czerny-Turner Spectrometer Extension Kit (View Product Family)
2 New Products!

EDU-SPEBCT1/M- Czerny-Turner Extension Kit, Metric RELEASED: October 08, 2020


EDU-SPEBCT1- Czerny-Turner Extension Kit, Imperial RELEASED: October 08, 2020