"; _cf_contextpath=""; _cf_ajaxscriptsrc="/cfthorscripts/ajax"; _cf_jsonprefix='//'; _cf_websocket_port=8578; _cf_flash_policy_port=1244; _cf_clientid='D5F076F48C2682478FA31D481F37E5D7';/* ]]> */
| | | | | | |
| --- | --- | --- | --- | --- | --- |
| Your Shopping Cart is Empty | | | | | |
See what's new at Thorlabs:
View the full list of new products (below) or browse our entire product range.
All of these items are available now!

Choose

RSS Feed to have this information delivered to you.

1 New Product in the OEM Laser Diode & TEC Systems Family!
«« View All New Products
«« View ByCategory
The laser diode / LED drivers offered on this page are ideal for applications that require the controller to be integrated into a larger system. Use the legend below to quickly select the driver with the features that you need. In addition, Thorlabs offers a bias-T adapter that allows the user to modulate the drive current with a non-zero DC bias.



| | |
| --- | --- |
| | Constant Power Mode |
| | Constant Current Mode |
| | Temperature Controller |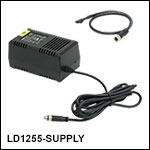 Power Supply with Cable for LD1255R Driver (View Product Family)
1 New Product!

LD1255-SUPPLY- Cable and LDS12B Power Supply Bundle for LD1255R Driver RELEASED: July 06, 2020