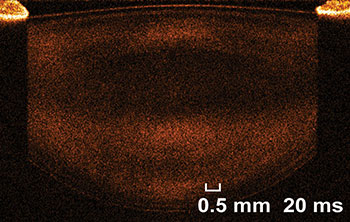 Healthy Human Lens Imaged with a 1070 nm OCT System

Contact Lens Measurement in Water Imaged with
a High-Sensitivity OCT System
Anterior Chamber Imaged with a 1070 nm OCT System
Laminated Foil Measurement Imaged at 2 µm Axial Resolution
Optical Coherence Tomography
Optical Coherence Tomography (OCT) is a high-resolution, cross-sectional imaging technology that analyzes echoes of backscattered light from layers of microstructures close to the surface of the sample (i.e., up to several millimeters deep). This low coherence, interferometric technology generally employs near infrared light and offers a spatial resolution of 1 - 15 µm, which is one to two orders of magnitude higher than conventional ultrasound. It can generate real-time, volumetric data at video frame rates.
OCT is commonly used for in vivo analysis of biological tissues but is expanding into other domains such as non-destructive material inspection. Currently, OCT is an established technique often used in medical imaging systems, offering a level of precision and reliability that was not possible before.
Thorlabs' OCT group in Lübeck, Germany specializes in the development of Spectral Domain OCT engines, while our group in Newton, NJ has expertise in the development of Swept Source OCT components and systems, including a new MEMS-Tunable VCSEL Swept Source Laser Source offering single mode, mode-hop-free operation over a tuning range in excess of 100 nm.