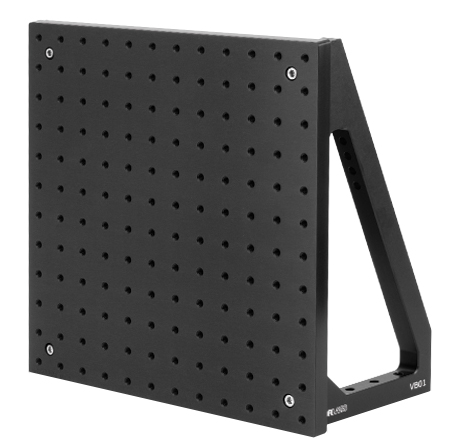 Vertical Arrangement
Thorlabs' aluminum breadboards can be mounted vertically (or perpendicular to a mounting surface) using a wide variety of 90 degree mounting plates. For tall arrangements, we recommend the setup shown to the left. Here, the MB12 breadboard is vertically oriented using two VB01 Vertical Brackets. For smaller arrangements, the AB90, AP90, or AP90L Right-Angle Brackets may be used.
---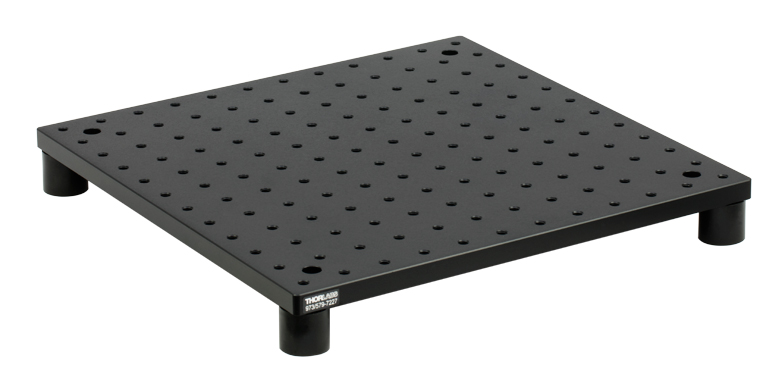 Vibration Isolating Feet
Thorlabs' aluminum breadboards may be mounted on a set of vibration isolation feet. These Sorbothane Mounting Feet may be used to isolate a small breadboard from its mounting surface.
Not shown: Standard RDF1 Rubber Damping Feet may also be used where high vibrational damping is not necessary.
---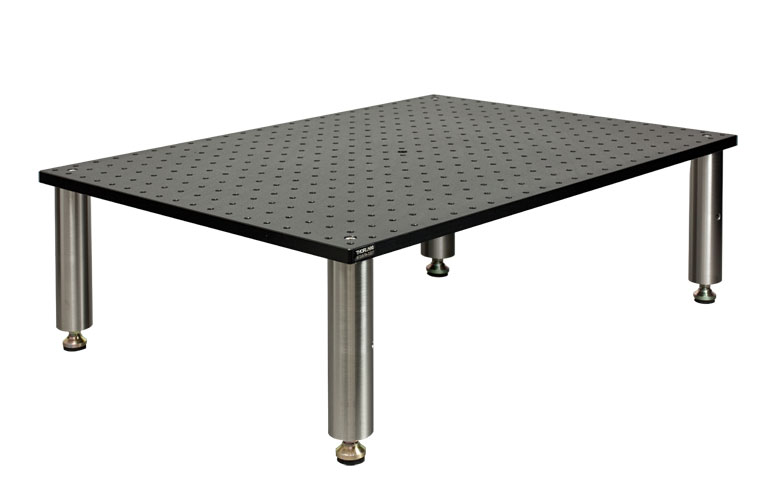 Elevated Arrangement with Adjustable Mounting Feet
A set of Ø1.5" Mounting Posts can be used to elevate an aluminum breadboard off of the work surface. At left, an MB1824 breadboard is shown with four P6 Mounting Posts. An adjustable, self-leveling BMF4 Mounting Foot is attached to each mounting post. The self-leveling mounting feet feature rubberized feet and screw thread height adjustment.
Not shown: DP14A Damped Posts are available in 14" lengths for vibration sensitive elevated mounting applications.
---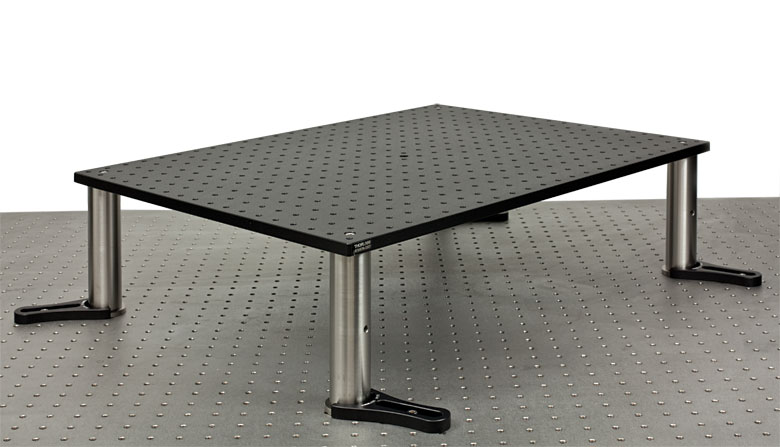 Fixed Elevated Arrangement with Pedestal-Style Feet
A more permanent Aluminum Breadboard mounting option, shown to the left, features pedestal-style Ø1.5" Mounting Posts clamped to an optic bench. The MB1824 Aluminum Breadboard to the left is elevated off the optic bench surface using a set of four P6 Mounting Posts, each with a PB4 Pedestal Base Adapter and PF175 Clamping Fork.
Not shown: Ø1.5" Translating Posts or Ø1.5" Damped Posts may also be used in lieu of the P6 Mounting Posts for applications requiring further height adjustment or reduced sensitivity to vibrations, respectively.
---
Breadboard Enclosure Systems
Enclosures may be added to Thorlabs' aluminum breadboards to house light and dust-sensitive equipment. Thorlabs offers a variety of plexiglass and standard darkening enclosures. The enclosure shown to the left has the front panel removed for access. Enclosures with sliding doors fabricated from plexiglass or black hardboard are also available.
---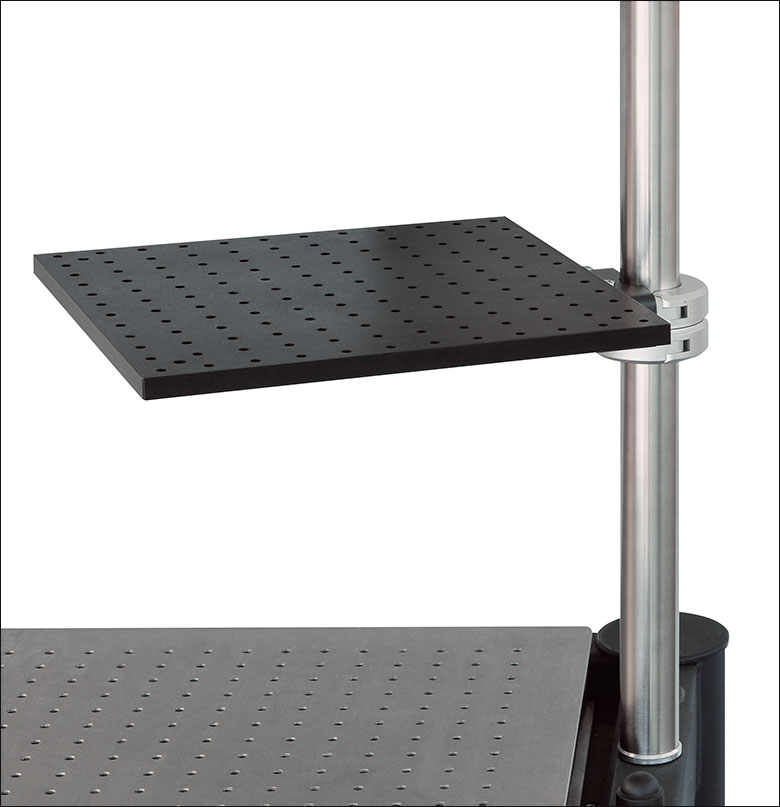 Breadboard Mounting Brackets
The PSY321(/S) Post Mounted Breadboard Brackets are designed to securely mount breadboards onto Ø1.5" posts. Each bracket will support any aluminum breadboard up to 12" x 12" (300 mm x 300 mm) in size, and has a maximum load capacity of 20 kg (44 lbs).
Not shown: PSY360 and PSY361 Breadboard Mounting Brackets can be used to mount breadboards to the lean bars of a ScienceDesk™ workstation.