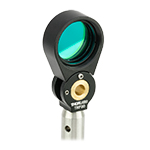 Click to Enlarge
FB2500-500 Mounted in a
TRF90
Flip Mount Using a Retaining Ring
Features
Central Wavelengths from 1.75 to 6.0 µm
0.5 µm Bandpass Region (FWHM)
Minimum Peak Transmission: 70%
Ø1" Mounted Filters with Ø21 mm Clear Aperture
Out-of-Band Transmission:

For CWL from 1.75 to 4.75 µm, and CWL = 5.25 µm: <0.1% from 200 nm - 12 µm
For CWL = 5.00 µm and CWL from 5.50 to 6.00 µm: <0.1% from 1.8 - 9.5 µm
The bandpass filters shown on this page feature center wavelengths from 1.75 to 6.00 µm. Transmission curves for individual filters are available by viewing the Transmission Data link for each filter on the Specs tab. Each filter is epoxied into a black anodized aluminum ring with an outer diameter of Ø1" and maximum edge thickness of 6.1 mm, which is compatible with our SM1 Lens Tubes. These filters feature a longer total lifetime than our UV, Visible, and NIR bandpass filters because they are fabricated from a single coated substrate. This fabrication technique also allows the unmounted filters to be used without resulting damage; however, the blocking transmission may be affected. As these filters cannot be removed from their mounts after purchase, please contact Tech Support to custom order unmounted filters.
Thorlabs' bandpass filters provide one of the simplest ways to transmit a well-defined wavelength band of light, while rejecting other unwanted radiation. Their design is essentially that of a thin film Fabry-Perot Interferometer formed by vacuum deposition techniques and consists of two reflecting stacks, separated by an even-order spacer layer. These reflecting stacks are constructed from alternating layers of high and low refractive index materials, which can have a reflectance in excess of 99.99%. By varying the thickness of the spacer layer and/or the number of reflecting layers, the central wavelength and bandwidth of the filter can be altered.
Each filter is housed in a black anodized aluminum ring that is labeled with an arrow indicating the design propagation direction. The ring makes handling easier and enhances the blocking OD by limiting scattering. These filters can be mounted in our extensive line of filter mounts and wheels. As the mounts are not threaded, Ø1" retaining rings will be required to mount the filters in one of our internally-threaded SM1 lens tubes.
Common Specifications
Out-of-Band Transmission
<0.1% from 0.2 - 12 µm (For CWL from 1.75 to 4.75 µm, and CWL = 5.25 µm)
<0.1% Average from 1.8 - 9.5 µm (For CWL = 5.00 µm and CWL from 5.50 to 6.00 µm)
Bandwidth
(Full Width at Half Maximum)
500 ± 100 nm
500 ± 20 nm (FB5250-500 Only)
Peak Transmission (Min)
70% at CWL
75% at CWL (FB5250-500 Only)
Housing Diameter
1" (25.4 mm)
Housing Diameter Tolerance
+0.0 / -0.2 mm
Clear Aperture
Ø21 mm
Thickness
6.1 mm +0.00 / -0.10 mm
Surface/Coating Quality
80-50 Scratch-Dig
Edge Treatment
Mounted in Black Anodized Aluminum Ring
Edge Markings
Item # ↑;
The Arrow Points in the Direction of the Light Transmission
Optimum Operating Termperature
21 °C
Operating Temperature
-50 to 80 °C
-20 to 60 °C (FB5250-500 Only)