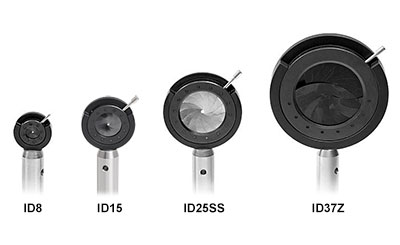 Click to Enlarge
Comparison of Minimum Aperture Sizes
Features
Continuously Variable
Single Irises Include Housing and Mounting Post
Select Irises Available in Packs of 5 without Mounting Post
Black Anodized Aluminum Housing Limits Reflection
Custom Sizes Available
Unmounted Iris Diaphragms Also Available
These lever-actuated, continuously variable iris diaphragms are designed to provide smooth operation over many thousands of cycles. The individual steel leaves pivot within a black-anodized aluminum housing.
With the exception of the Mini-Series Mounted Iris Diaphragm (ID5MS, ID5MS/M), which is mounted on a Ø6 mm post that is compatible with our Mini-Series line, all single iris diaphragms listed below are mounted on a removable 3" (75 mm) long Ø1/2" post. Single irises without the post are available as a special by contacting tech support. Irises with item # prefix IDA are also sold in packs of five with a bottom-located 8-32 (M4) setscrew but no mounting post.
In addition to the post-mountable irises sold on this page, Thorlabs also offers SM-threaded Lever-Actuated Irises and
Ring-Actuated Irises. In addition, we offer Cage System Irises for use with 30 mm and 60 mm cage systems.