Common Specifications
Lens Shape
Plano / Convex
Substrate Material
UV-Grade Fused Silicaa
AR V-Coating
532/1064 nm
Reflectance at 532 nm
and 1064 nm (AOI = 0°)
R<0.25%
per Surface
Diameters Available
Ø1/2" in SM05-Threaded Mount
(0.535"-40)
Ø1" in SM1-Threaded Mount
(1.035"-40)
Diameter Tolerance
+0.00 mm / -0.10 mm
Thickness Tolerance
±0.1 mm
Clear Aperture
Ø1/2" Lenses: >Ø11.05 mm
Ø1" Lenses: >Ø22.86 mm
Design Wavelength
546 nm
Index of Refraction
(@546 nm)
1.460
Surface Quality
40-20 Scratch-Dig
Surface Flatness
(Plano Side)
λ/2
Spherical Surface Power
(Convex Side)

b

3λ/2
Surface Irregularity
(Peak to Valley)
λ/4
Centration
≤3 arcmin
Focal Length Tolerance
±1%
Features
Ø1/2" and Ø1" Lenses Available in SM-Threaded Mounts
AR V-Coating Centered at Nd:YAG Laser Lines of 532 nm and 1064 nm
Focal Lengths Available from 20.0 mm - 500.0 mm
Thorlabs' UV Grade Fused Silica Plano-Convex lenses, which are available in Ø1/2" and Ø1" sizes in threaded mounts, are available here with a AR V-Coating centered at 1064/532 nm deposited on both surfaces. Each size is compatible with a multitude of Thorlabs lens mounts.
UV-grade fused silica offers high transmission in the deep UV and exhibits virtually no laser-induced fluorescence (as measured at 193 nm), making it an ideal choice for applications from the UV to the near IR. In addition, UV fused silica has better homogeneity and a lower coefficient of thermal expansion than N-BK7.
The V-coating is a multilayer, antireflective, dielectric, thin-film coating that achieves minimal reflectance over a narrow wavelength range. Reflectance rises rapidly on either side of this minimum, giving the reflectance curve a "V" shape (see Graphs tab for performance plots). When compared to broadband AR offerings, dielectric V-coats achieve lower reflectivity over a narrower bandwidth and incident angle.
With a reflectance of less than 0.25% at the specified coating wavelengths, these V-Coated lenses provide exceptional transmittance and are ideal for use with Nd:YAG (532/1064 nm) lasers, as well as applications where light is transmitted through complex optical systems.
Plano-convex lenses have positive focal lengths and are the most popular type of lens element. They are commonly used to focus a collimated incident beam; in such cases the collimated light source should be incident on the curved surface to minimize spherical aberrations. When image quality is not critical, plano-convex lenses may be a suitable alternative.
When deciding between a plano-convex lens and a bi-convex lens, both of which cause collimated incident light to converge, it is usually preferable to choose a plano-convex lens if the desired absolute magnification is either less than 0.2 or greater than 5. Between these two values, bi-convex lenses are generally prefered.
Thorlabs also offers unmounted versions of our UV-grade fused silica lenses, either uncoated or with an AR coating for one of the following wavelength ranges: 245 - 400 nm (UV), 350 - 700 nm (-A), 650 - 1050 nm (-B), 1050 - 1700 nm (-C), or 532/1064 nm (-YAG).
UV Fused Silica lens kits are also available. Please click here for information.

Zemax Files
Click on the red Document icon next to the item numbers below to access the Zemax file download. Our entire Zemax Catalog is also available.
Below is the transmission curve for a 10 mm thick uncoated sample of UV fused silica when the incident light is normal to the surface. Please note that this is the measured transmission, including surface reflections.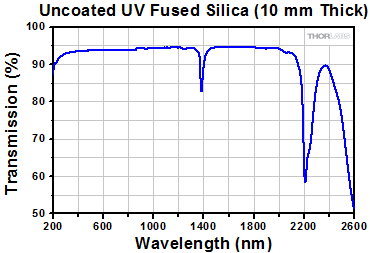 Click to Enlarge
Click
Here
for Raw Data
---
V-Coating:
The V-coating is a multilayer, anti-reflective, dielectric thin-film coating designed to achieve minimal reflectance over a narrow band of wavelengths. Reflectance rises rapidly on either side of this minimum, giving the reflectance curve a "V" shape, as shown in the following performance plots. Thorlabs' V-coats have a minimum reflectance of less than 0.25% per surface and are designed for angles of incidence (AOI) between 0° and 20°. Compared to the broadband AR coatings, V-coatings achieve lower reflectance over a narrower bandwidth when used at the specified AOI.
532/1064 nm V-Coat Reflectance (AOI: 0 - 20°)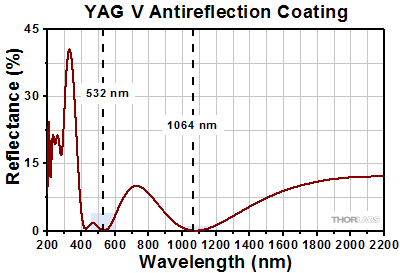 Click to Enlarge
The plots below are enlarged views of the shaded regions in the plot above:
---
The lenses sold on this page are also available with broadband antireflective coatings, the reflectance traces of which are shown in the graph below.
These high-performance multilayer AR coatings have an average reflectance of less than 0.5% (per surface) across the specified wavelength ranges and provide good performance for angles of incidence (AOI) between 0° and 30° (0.5 NA). The plot shown below indicates the performance of the standard coatings in this family as a function of wavelength. Broadband coatings have a typical absorption of 0.25%, which is not shown in the reflectance plots.

Thorlabs offers a wide selection of optics optimized for use with Nd:YAG lasers. Please see below for more information.
Nd:YAG Optics Selection
Dielectric Mirrors
Ultrafast Mirrors
Laser Line Mirrors,
1064 nm, 532 nm, 355 nm, 266 nm
Right-Angle Prism Mirrors,
1064 nm, 532 nm
Cage Cube-Mounted Prism Mirrors,
1064 nm, 532 nm
Low GDD Ultrafast Mirrors,
1064 nm or 532 nm
Beamsplitters
Objectives
Harmonic Beamsplitters,
1064 nm, 532 nm, 355 nm, 266 nm
High-Power Polarizing Beamsplitter Cubes, 1064 nm, 532 nm: Unmounted or Mounted
Non-Polarizing Plate Beamsplitters, 1064 nm, 532 nm
High Power Focusing Objectives,
1064 nm, 532 nm
Lenses
Filters
UVFS Plano-Convex Lenses,
1064 nm, 532 nm:
Unmounted or Mounted
Air-Spaced Doublets,
1064 nm, 532 nm
Laser Line Filters, 1064 nm:
Standard or Premium
Laser Line Filters, 532 nm:
Standard or Premium