Zerodur® Mirror Blanks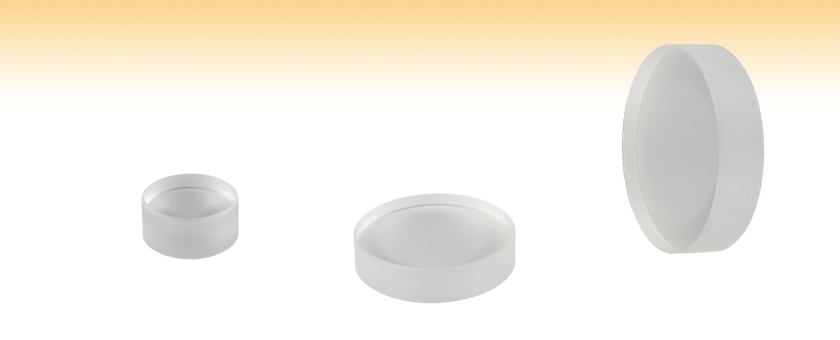 Low Coefficient of Thermal Expansion Compared to Fused Silica
Front Surface Flatness: λ/10
Ø1/2", Ø1", and Ø2" Optics
PF0511
Ø1/2" Mirror Blank
PF1011
Ø1" Mirror Blank
PF2011
Ø2" Mirror Blank

Please Wait
Features
Extremely Low Coefficient of Thermal Expansion
Three Sizes Available: Ø1/2", Ø1", and Ø2"
Front Surface Flatness of λ/10
Fine Ground Back Surface
Thorlabs' Zerodur®* mirror blanks are designed to be used as front-surface mirrors when coated. Fabricated from substrate-grade Zerodur, which has an extremely low coefficient of thermal expansion, these mirror blanks offer a high degree of purity and exceptional environmental durability. Zerodur's coefficient of thermal expansion is 0 ± 0.100 x 10-6 /°C, which is significantly smaller than the value for fused silica, 0.55 x 10-6 /°C. This property makes these mirror blanks ideal for high-power systems like CO2 lasers, amplified Ti:sapphire lasers, and industrial machining lasers, as well as other applications that are sensitive to thermally-induced beam drift. Each of these blanks is engraved with part number on the back side.
These Zerodur blanks can be coated with our reflective coatings such as broadband dielectric, metallic, or custom coatings. These coatings can provide high reflectivity for ultraviolet through near-infrared wavelengths. Please contact Technical Support for information on coatings and price. For applications that are less sensitive to thermally induced beam drift, Thorlabs also offers a line of fused silica mirror blanks.
*Zerodur® is a registered trademark of Schott.
Item #
Diameter
Thickness
Parallelism
Surface Quality
Surface Flatness
Clear Aperture
Materiala
Back Surface Quality
PF0511
12.7 mm +0.0/-0.1 mm
6.0 mm ± 0.2 mm
≤3 arcmin
10-5 Scratch-Dig
λ/10 @ 632.8 nm
>90% of Diameter
Zerodur®
Fine Ground
PF1011
25.4 mm +0.0/-0.1 mm
6.0 mm ± 0.2 mm
PF2011
50.8 mm +0.0/-0.1 mm
12.0 mm ± 0.2 mm
Click Link for Detailed Specifications on the Substrate
Posted Comments:
No Comments Posted