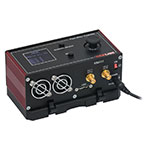 Click to Enlarge
Single- or Dual-Channel Operation
Standalone Control via Top Panel or PC-Control via USB Plug and Play
Voltage Output from 85 V to 125 V
Item #
PIA50
Travel

50 mm

Typical Step Sizea
20 nm
Maximum Step Sizeb
<30 nm
Step Size Adjustabilityc
≤30%
Maximum Step Frequencyd
2000 Hz
Backlash
None
Maximum Axial Preloade
25 N
Recommended Maximum
Axial Load Capacityf
2.5 kg (5.51 lbs)
Velocity

2 mm/min (Typical)
<3.5 mm/min (Maximum)
Drive Screw
1/4"-80 Thread, Hard PVD Coated
Motor Type
Piezoelectric Inertia
Mounting Options

Ø3/8" (9.52 mm) Barrel

3/8"-40

Threaded

Barrel

Operating Temperature
10 to 40 °C (50 to 104 °F)
Dimensions
3.80" x 1.24" x 0.67"
(96.6 mm x 31.5 mm x 17.0 mm)
Cable Length
1.0 m (3.28')
Connector
SMC, Female
Compatible Controller
KIM001 or KIM101
Features
Compact Design, 31.5 mm x 17.0 mm (W x H)
Piezo Inertia Actuator Offers 20 nm Typical Step Size
Manual Adjustment via Rear-Located Thumbscrew
125 V Maximum Operating Voltage
Compatible with Translation Stages using 3/8"-40 Thread or 3/8" Mounting Block
Ideal for Set-and-Hold Applications that Require Relative Positioning with High Resolution
Control Cable can be Adjusted up to 110° for Space-Constrained Applications
Thorlabs' PIA50 Piezoelectric Inertia Actuator provides high-resolution linear motion control with a long piezo-controlled translation range in a compact package. It can support loads up to 2.5 kg (5.51 lbs) and preloads up to 30 N with typical movements of 20 nm and no backlash. The step size can be adjusted up to 30% to a maximum of approximately 30 nm using the KIM101 Controller and Kinesis® software. However, due to the open-loop design, hysteresis, and application conditions, the achieved step size of the system can vary over 20%. An external feedback system will need to be used to overcome this variance.
This actuator has a Ø3/8" (9.52 mm) mounting barrel with a 3/8"-40 thread on the front of the barrel for compatibility with our wide range of translation and rotation stages. For compatibility with 1/4"-80 threaded mirror mounts see our 10 mm travel piezo inertia actuator. The actuator is self-locking when at rest and when there is no power supplied to the piezo, making the actuator ideal for set-and-hold applications that require nanometer resolution and long-term alignment stability. Manual adjustments can be made at any time, as long as the piezo is not actively translating the screw, by using the rear-located thumbscrew or with a 5/64" (2 mm) hex key.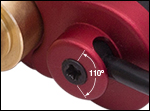 Click for Details
The Control Cable Can be Adjusted up to 110° for Space-Constrained Applications
Powered by a 10 mm (0.39") long discrete piezo stack, the actuator can operate at speeds of up to 3.5 mm/min. The design of the piezo motor will rotate the tip of the lead screw during translation. As shown in the image to the right, the control cable for each actuator can be rotated up to 110° for space-constrained applications.
For information on the design of our piezo inertia "slip-stick" motor actuators, please see the complete presentation here.
Required Controller
A K-Cube Piezo Inertia Controller is required to operate our PIA50 Piezo Inertia Actuator; the actuator cannot be operated using a standard piezo controller. The K-Cube controllers have an internal sawtooth voltage signal generator capable of sending sub-millisecond pulses (steps) with controllable amplitudes from 85 V to 125 V. In addition to a single-channel driver, we offer a four-channel driver capable of single- or dual-channel operation, which is ideal for applications involving multiple motorized actuators, such as beam steering.
For more information, please see the full web presentation.