Item #
DCU223
DCU224
Resolution
1024 x 768 Pixels
1280 x 1024 Pixels
Pixel Clock Rangea
5-30 MHz
Binning
Verticalb
AOI
Horizontal, Verticalb
Frame Rate at 320 x 240 Pixel (Cif)
78 fps
38 fps
Features
1024 x 768 or 1280 x 1024 Pixel Color and B&W Versions Available
1/3" or 1/2" Image Sensor with Square Pixels
Choose from 30 fps or 15 fps (Full Frame Mode)
C-Mount Lens Mount for use with our Standard C-Mount Camera Lenses and High-Magnification Zoom Lenses
Global Shutter
Universal Trigger Input
Software Support:

ThorCam GUI with 32- and 64-Bit Windows® 7 Support
Included SDK Supports C++, C#, VB, and LabVIEW
Sensors and Functionality
These ultra compact, lightweight CCD cameras feature USB connections, making them extremely versatile for a wide range of applications including industrial automation, quality control, medical imaging, microscopy, and security technology. The DCU223 models are equipped with a high-quality SONY 1/3" CCD sensor with XGA resolution (1024 x 768) and provide a full frame repetition rate of 30 fps. The DCU224 models have a 1/2" CCD sensor with SXGA resolution (1280 x 1024) and provide a full frame repetition rate of 15 fps.
SM1 Thread Compatibility
For all models, higher frame rates can be achieved by using the Area of Interest (AOI) or Binning functions; the former increases the frame rate by only reading a selected area of the sensor, whereas the latter increases the frame rate by combining pixel readings before transferring them to the PC, but in this case, image resolution is sacrificed. The computer can communicate digitally with the camera through the USB 2.0 interface, thus enabling the user to transmit images and control camera settings seamlessly.
Software
Each CCD camera comes with ThorCam, our Windows-compatible software package on CD. In addition, the cameras are supported by an extensive software development kit. Standard drivers like Direct Show (WDM), Active X, and TWAIN are provided. In addition, over 20 demo programs (including source code) are supplied. A USB cable for connecting the camera to a PC is also included. These cameras can be used with the latest release of µManager to obtain monochrome images (this includes the color USB CCD cameras).
Lenses
The DCU223 CCD cameras are fully compatible with our standard C-Mount Camera Lenses and High-Magnification Zoom Lenses, which are sold separately. Our standard lenses include fixed focal lengths of 3.5 mm - 75 mm with maximum apertures of up to f/0.95, as well as an 18 - 108 mm f/2.5 zoom lens. Our high-magnification zoom lenses are a modular system that features magnification from 0.07 - 28.
Included Mounting Adapters
The C-Mount threading of the CCD camera can be easily connected to components with Thorlabs' standard SM1 (1.035"-40) thread via one of the two included SM1 adapters, as shown in the photo to the right. Additional adapters may be purchased below. A mounting adapter plate is also provided with the CCD camera; by using the included M4 x 10 mm or 8-32 x 3/4" cap screw, the camera can be threaded onto Thorlabs' TR series Ø1/2" posts. Every unit also ships with four M3 x 6 mm screws for mounting the adapter plate to the camera.
Trigger Option
The optional CAB-DCU-T1 and CAB-DCU-T2 cables can replace the standard USB connection while also enabling the use of the additional trigger input and output ports of these cameras. The exposure and readout/transfer events of the camera can be initiated via the input trigger; external events like strobe lights can be triggered by the camera through the output trigger . The trigger configuration, i.e. the source of the input trigger and the timing for the output trigger, can be set through the provided software or the LabVIEW drivers. Please click here for more details about the cables and the ordering information.
Item #
DCU223M
DCU223C
DCU224M
DCU224C
Sensor
Sensor Type
CCD
Exposure Mode
Electronic Global Shutter
Read Out Mode
Progressive Scan
Resolution
1024 x 768 Pixels
1280 x 1024 Pixels
Optical Sensor Class
1/3"
1/2"
Exact Sensitive Area
4.76 mm x 3.57 mm
5.95 mm x 4.76 mm
Exact Optical Sensor Dimension (Diagonal)
6.0 mm (0.24")
7.6 mm (0.30")
Pixel Size
4.65 µm x 4.65 µm
Sensor Name
Sony ICX204AL
Sony ICX204AK
Sony ICX205AL
Sony ICX205AK
Minimum Opt. Power Density Required
1.4 nW/mm²
1.2 nW/mm²
A/D Converter Resolution
8 Bit
S/N Ratio
≥38 dB
Frame Rates
Pixel Clock Rangea (Allowed/Recommended)
5 - 30 MHz/10 - 20 MHz
Frame Rate, Freerun Modeb
30 fps
15 fps
Frame Rate, Trigger Mode,
1 ms Exposure Timeb
28.7 fps
17 fps
Exposure Time in Freerun Mode
30 µsb - 773 msc
66 µsb - 1360 msc
Exposure Time in Trigger Mode
30 µsb- 10 minc
66 µsb - 10 minc
Binning
Verticald
Method
V: Monochrome Binning, Additive
Factor, Maximum Resolution, Frame Rate
2x, 1024 x 384 Pixel, 53 fps
2x, 1280 x 512 Pixel, 23 fps
Factor, Maximum Resolution, Frame Rate
4x, 1024 x 192 Pixel, 85 fps
4x, 1280 x 256 Pixel, 31 fps
Subsampling
-
AOI
Horizontal, Vertical d
Frame Rate at 320 x 240 Pixel (Cif)
78 fps
38 fps
Absolute Image Width, Step Width
16 - 1024 Pixel, 4
16 - 1280 Pixel, 4
Absolute Image Height, Step Width
120 - 768 Pixels, 1
120 - 768 Pixels, 2
120 - 1024 Pixels, 1
120 - 1024 Pixels, 2
Position Raster Horizontal
1
2
1
2
Position Raster Vertical
1
2
1
2
Gain
Monochrome Model
10.47X (Master)
7.59X/4X (Master/RGB)
13.66X (Master)
8.9X/4.0X (Master/RGB)
Offset Control, Mode
Auto, Manual, Additive
Gain Boost
2x
n/a
2x
n/a
Trigger
Hardware Trigger
Asynchronous
Trigger Delay With Rising Edge, Jitter
39.5 µs ± 2.6 µs
39.9 µs ± 2.5 µs
Trigger Delay With Falling Edge, Jitter
57.9 µs ± 2.6 µs
57.7 µs ± 2.5 µs
Additive Trigger Delay To the Sensor
15 µs - 4 s
Sensor Delay To the Exposure Start
<100 µsb
Trigger Low Levele
0 V Min, 2 V Max
Trigger High Levele
5 V Min, 24 V Max
Power Consumption
1.0 - 1.7 W
1.1 - 2.1 W
Housing
Lens Connector
C-Mount
Protective Window, Removable
Uncoated Glass
(D263)
IR Filter D263
with HQ coating
Uncoated Glass
(D263)
IR Filter D263
with HQ coating
Interface
USB 2.0
Power Supply
1.7 W, via USB
1.1 to 2.1 W
Operating Temperature
32 to 122 °F (0 to 50 °C)
Security Labels
CE, FCC, Class A
Dimention (H x W x D)
1.59"  x 1.26" x 1.35" (40.35 mm x 32 mm x 34.4 mm)
Weight
0.21 lbs (96 g)
Objective Connector
C-Mount
Pixel Sensitivity of the CCD Camera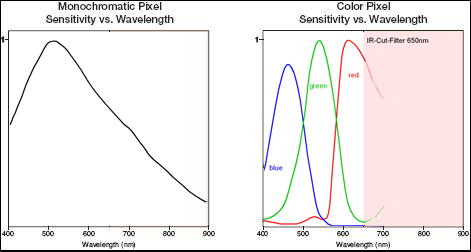 Pixel sensitivity versus wavelength plots are shown at the right for the monochromatic and color versions of these CCD cameras. The color model incorporates a removable IR filter that blocks the spectral region marked by the pink background. For this model, the popular Bayer color filter array is used to acquire digital color images. The filter is based on the repeating 2 x 2 pattern shown to the left; half of the total number of pixels are green (G), and the remaining pixels are equally divided between red (R) and blue (B).
Due to this arrangement, each pixel is only sensitive to one color, and as a result, the overall sensitivity of the color image is three times lower than that achievable with a monochromatic sensor. Thus, B&W CCD cameras are preferred in low-light situations. Even though only one third of the color information is obtained at each pixel, a full-color image can be achieved through the use of various demosaicing algorithms that interpolate a set of red, green, and blue B G B G values at each point.
ThorCam™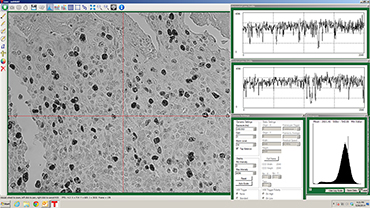 Click to Enlarge
ThorCam Graphical User Interface (GUI)
ThorCam is a powerful image acquisition software package that is designed for use with all of our cameras on 32- and 64-bit Windows® 7 systems. This easy-to-use graphical interface communicates with the camera to provide system control, image acquisition, and playback. Single-image capture and image sequences are supported.
Application programming interfaces (APIs) and a software development kit (SDK) are also included for the development of custom applications by OEMs and developers. Also included is support for third-party software packages such as C++, C#, VB, and LabVIEW.
When choosing a camera for your application, the selection process may seem daunting. Many questions arise concerning the differences between Charge Coupled Devices (CCD) and Complementary Metal Oxide Semiconductor (CMOS) sensors. Each sensor type has advantages and disadvantages that will help you determine which is most appropriate for your application.
The advantages listed here have been generalized to the sensor type. When purchasing a camera, it is always important to check the specifications of the device to ensure that it is suitable for your application.
Sensor Advantages Comparison
Feature
CCD
CMOS
Responsivity
 
High Dynamic Range
 
High Uniformity
 
Shuttering
 
Windowing
 
Antiblooming
 
Responsivity - Advantage CMOS
While both CCD and CMOS sensors have similar responsivity, CMOS sensors typically have an advantage over CCDs as each pixel has its own amplification electronics.
Dynamic Range - Advantage CCD
Dynamic Range refers to the maximum signal strength divided by the smallest signal. A high dynamic range correlates to a camera that is capable of imaging the widest range of intensities of light. CCDs can have dynamic ranges twice as great as similar CMOS sensors. Furthermore, CCDs have less noise, which is ideal for low-light imaging.
Uniformity - Advantage CCD
The construction of CCD and CMOS sensors differs substantially. Each pixel on a CCD collects light and typically transfers charge to one output node. This charge is then converted to a voltage and buffered. As each pixel uses the same charge-to-voltage converter, the camera is highly uniform. Alternatively, each pixel of a CMOS camera has its own charge-to-voltage converter and amplification electronics are built onto the sensor. The uniformity of CMOS cameras is thus constrained by the uniformity of the charge converters and amplification electronics.
Shuttering - Advantage CCD
CCDs have more uniform shuttering than CMOS sensors, making them superior for imaging objects in motion. To achieve a uniform shutter with CMOS cameras, a rolling shutter is used, which only exposes a portion of the sensor at any given time. This improves fill factor of the sensor, but is typically not suitable for imaging objects in motion as they may appear blurry.
Windowing - Advantage CMOS
Windowing refers to the ability to read only a portion of the signal from the sensor. When imaging a smaller area of the sensor, higher imaging speeds are capable. CMOS sensors are well-suited for windowing as the signal can be read from only a portion of the whole sensor, rather than sequentially as with CCDs. The increased imaging speeds of cameras based on windowing will refer to an Area of Interest (AOI) in pixels, which will be a portion of the full sensor.
Antiblooming - Advantage CMOS
When a region of the sensor is overexposed, it is highly desirable to limit the effect the overexposure has on neighboring pixels. An overexposed pixel on a CCD may cause nearby pixels to appear overexposed, too. To limit this, CCDs may have larger buffers between pixel rows, but this will reduce the fill factor of the sensor. As CMOS sensors convert charge to voltage at each pixel, they are not susceptible to blooming.